Posted on
January 27th, 2009
by Randall
 We have time yet to do ……..??
Looking forward to skiing with the kids and grandpa.  He was excited about going skiing with the kids in a couple of weeks.  I have a coupon for a free lift ticket (he loved using coupons). On the phone He said: "not this weekend but the following will be perfect." And the plans were made.  It was great that he was able to come up and ski, as I was looking forward to showing off how well the kids ski now.  We also talked about Pattie and the job situation.  Yes – Pattie has the new job and will be starting next Monday (today).  I could hear in his voice he was happy and how proud he was of Pattie for getting this job.  Pattie was looking forward to sharing her experiences at her new job with him.
A few hours later the call – Ambulance, Hospital, Dad.  That can't be – he's healthy and strong and has only been in the hospital to visit other people that were sick including myself. 
We have many rolls to play throughout our lives.  My father had a number of different rolls to play including husband, wood worker (he just bought a new table saw), father and many more. Years back when I was in the hospital he even played the role caregiver as he and others helped me through a long couple of months.  But the roll I most enjoyed watching him play was grandpa.  There are few things that could give me more pleasure than watching the excitement on Alex and Melinda's faces while waiting to be dropped off at grandma and grandpa's house – or to get picked up by them at our house. They could not wait for Pattie and I to leave so that grandma and grandpa could give them the full attention they deserve.  
Acute Pancreatitis – as if knowing the name for what was happening should help- he's very sick and will be in the hospital for a long while. We won't worry about the ski trip. So our plans change a little bit. We will get to it – we have time?   
More than once I would ask my father what the deal was?  When I was a kid I could not have gotten away with all that he lets my kids get away with!!!! He would make no apology but simply smile and say: "It's dad's job to make limits and be the disciplinarian –Its grandpa's job to be the good guy and have fun with the kids," a job he truly excelled at.
This last year I have visited people in the hospital more than a few times and after a couple of days and a few tests back home they went.  But not this time – There will be no more ski trips, no new stories of dad with the kids, no more calls about his latest project.
Knowing that there will be no new stories, the memories I have, have become ever more precious.  
At a Birthday party for Reed, the boys were off crawfish hunting and Melinda felt left out.  But a little special grandpa time and everything was better.  I look forward to being able to play the roll of grandpa one-day (not too soon) and I hope that I will be as good at it and enjoy it as much as he did. 
These days' people compete with each other for the distinct honor of having the worst life.   I cannot remember the last time dad complained about his life.  Dad enjoyed his life, making him a joy to be around.    
A Little basket ball with Alex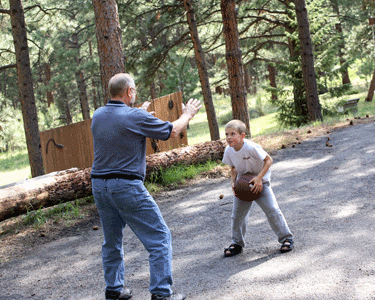 I realize the emptiness I feel, is there because how full my heart felt when he was here.  We will truly miss him – and know he is still watching over us.